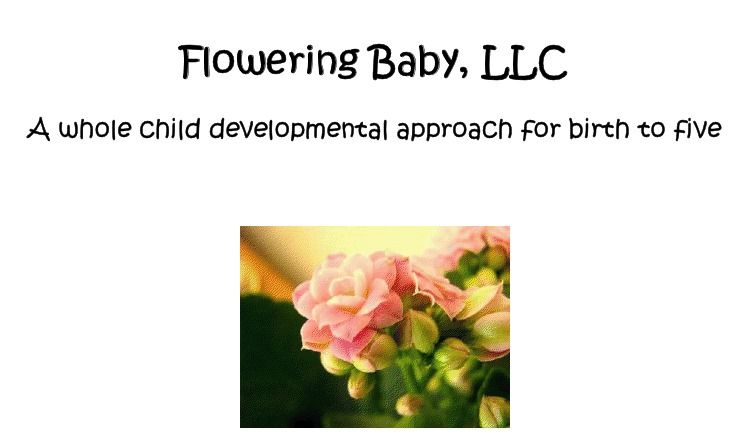 Flowering Baby is a wonderful program because it really speaks to an active child. When I read the introduction to the program, I was amazed by how organized it is and it really works well for my current plans our homeschool days. Flowering Baby is laid out on month to month for a full year. Each month has about 12 to 14 days of Classical, Charlotte Mason, and Unit Studies filled with a fun learning experience for your child.
A typical day consisted of:
Math

Reading books

Physical

Social

Discrimination

Crafts

Healthy snacks

Composer of the month

Following directions
The cost for Flowering Baby is very affordable. The 3-4 year old curriculum will teach your child the basics (Preschool) for $38. The 4-5 year old (Kindergarten) for $38. Flowering Baby provides a full year of learning and all that's left to do is print off your list of supplies needed to learn and go.
I received a CD-ROM for 3-4 year old and 4-5 year old in which, I was able to open on my computer to print. This was very easy because there's nothing to install on my computer. This CD-ROM has a list of PDF's for me to open and print exactly what I need with options for printing. You may print for the entire year, month to month, or highlighted daily lesson plan. I chose the highlighted daily lesson plan because it's so much easier for me to print it off and familiarize myself while putting my children to bed.
Now, that's a simple in and out type of planning I like. This cuts out at least 5 years of my planning and leaving me only an hour to print out the list I need for the month. Flowering baby provides a full list of supplies and books for the entire year, as well as month to month. So, you can either get what you need all at once or monthly. Either way you can just print and go to your local library to gather as much of your books as possible and then order the rest. Then off to your local store for the rest of your list.
Flowering baby would be great for anyone homeschooling their child from birth to 5 years old. The price is also very reasonable as well.
Now, my son is 5 years old, but I struggle to get him to sit down long enough to his work at times. So, I started him with the 3-4 year old level to reassure that he learns the basics before he moved to the 4-5 year old level. This worked out very well because a lot of it he had already known. So, I began printing off both levels for each level, in case he had mastered the task for level 3-4. This way I could challenge him with the 4-5 year old level.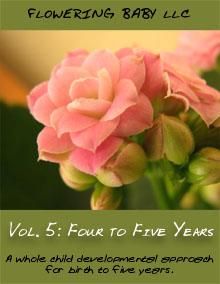 Flowering Baby works so well for an active learner. Flowering Baby allows him to be active at the same time while learning, but there are some down times. He's able to do these down times now because he gets to be active and learns to tone it down when needed to. This was a win/win for the both of us. So, I'm very pleased with Flowering Baby because he's learning and I'm happy to say that I've purchased the remaining items on the list to continue this with my son until completion.
I came in the middle of January, but this can be easily started with all forms of schedules. I chose to start with the dinosaur theme along with our daily learning. We were already learning about dinosaurs, so this wasn't hard decide to go with dinosaur theme for him. In fact, it helped me because it saved time researching activities to do with him. I had no problems getting him to participate because each day is filled with hands-on, writing, playing, crafts, music, and much more. Often times my other children joined in on the fun and became even more fun for him. For instance, you can click here to see how we did the digging for bones idea. This was fun for my little guy and my other younger children. So, why not include them as well.

Disclaimer: I received a free copy of this product through the Schoolhouse Review Crew in exchange for my honest review. I was not required to write a positive review nor was I compensated in any other way. All opinions I have expressed are my own or those of my family. I am disclosing this in accordance with the FTC Regulations.
Thank you for visiting our blog! If you find this enjoyable, join us below for free!