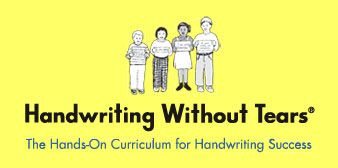 Often times I've struggled with getting my son to write. Of course we had both good and bad days when it came to writing with my son. He's is seven years old and loves to read, but to get him to write about what he read or just to get him to write period it was a struggle.
My son practices his writing daily using Handwriting without Tears for about 20-30 minutes. He use to take longer. He's excited to work in his cursive and print book. I started him off with one, but he actually asked to do both each day. Really, from a boy who really disliked writing is now asking to write. That's amazing! So, for my to say I like this product would be an understatement. I love
Handwriting without Tears
!!!
I referenced to my
Second Grade Teaching Guide
to locate the lesson plan for the day. There's usually 3-4 activities to learn each day. Then we did the three additional sections on the bottom More to Learn, Support/ELL, and Connections. The Connections portion is one of my favorite because I found really great writing prompts. For example, writing a persuasive letter to bring back summer vacation. I opened this writing prompt with my other children and I got some really good letters.
I really enjoyed the
Handwriting without Tears Teachers Guide
because it helped me use the proper language to help my son. For instance "dive down, swim up and over." This may make sense to some people, but for those that don't have a teaching degree, it doesn't make sense, and that's me. So, the
Handwriting without Tears Teachers Guide
is very helpful when it comes to writing. It never crossed my mind to approach writing like this with those catch phrases.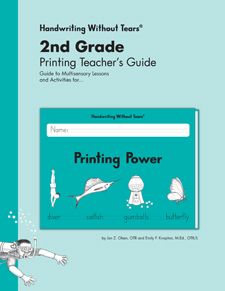 My son liked to start with his
Handwriting without Tears Kick Start Cursive
workbook. This didn't surprise me because he use to play around with his letters. For instance, he would connect his letters with his version of cursive writing or turning letters into a drawing. In the picture below has a little of that, but it has toned down dramatically since starting him on the
Handwriting without Tears
.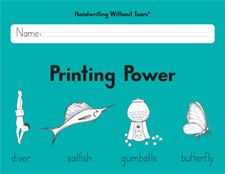 I definitely give
Handwriting without Tears
a two thumbs up. I think it's a must have for any child in second grade. Especially, if you have a child struggling in writing. The price even speaks for itself as well because for $20 you can't go wrong, your child will be writing without tears and your budget will be without tears too.
Handwriting without Tears Teachers Guide
is $9.25 and I recommend getting this for three reasons. One, the lesson plans are very helpful for both you and your child. Secondly, gain access to online resources to help your child be a successful. Third, the weekly teaching guide is really great because it's already laid out for you for the whole week and all you have to do is follow along.

Disclaimer:
I received a free copy of this product through the Schoolhouse Review Crew in exchange for my honest review. I was not required to write a positive review nor was I compensated in any other way. All opinions I have expressed are my own or those of my family. I am disclosing this in accordance with the FTC Regulations.
Thank you for visiting our blog! If you find this enjoyable, join us below for free!