One Minute Mysteries: 65 More Short Mysteries You Solve With Science
is recommended for ages 8-12, but not the case in our home because my oldest son pick this book up for pleasure. He really enjoyed this book because not too many books will he pick up to read unless it's an assignment. On his own, he wrote a short brief of each story he read.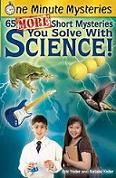 As for my younger children we read this aloud and had a discussion after each short story. We would read 1-2 a day depending on how much discussion was given. I would have them follow up with a picture if one could be done with that particular short story. My 10 year old, there a more in depth discussion here because he loves Science. He could think of all possibilities and our discussions could lengthy.

http://www.sciencenaturally.com/65_More_Science