We all learned Spanish through
Spanish for You!
Some more than others, but it's so great for everyone to work at their own pace. We follows the
lesson guide
because it provided a step by step instruction for what needs to be done. This reduces the stress of learning a foreign language because everything is laid out for me.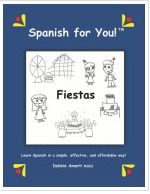 The step by step instructions is very easy to follow. It helped me to know when to print or which audio file to listen to next. There's room for challenging my children if I felt they needed to be challenged. However, we've been learning Spanish for a couple of months. So, we started off moving faster until we found the right spot. Then we began to slow down a little bit.
So, for the first week it wasn't very much fun because most of them were complaining of knowing it, but reviews are always good before beginning a new course. Once we were at the right spot, the complaining became to a dead halt. They all began to have fun learning and enjoyed the
games
suggested to play.
I personally enjoyed the audio files because some of my children looked at me with some of the funniest faces. I had my fair share of misinterpretations as well. However, the
worksheets
were one of my favorites here because each were at a different level, but all still working from the same program. Some of them were working together helping each other while I was with another child.