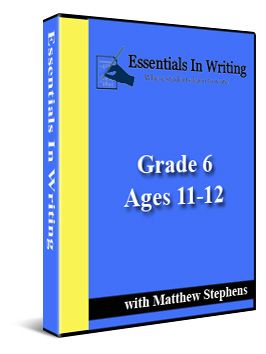 Essentials in Writing
is a great program that will teach your child the basic grammar skills and then some. However, I wanted to use
Essentials in Writing
for my oldest son because
middle school
was as if he hadn't been there. So, I had to start from the beginning of
6th grade
for him this year. I also learned a lot through
Essentials in Writing
because this is how my son learns, through video. I've seen some really great accomplishments of not struggling as much with writing.
I would watch the lessons for the week on the weekend before the week would start. I then would print off the two of each worksheet, assignment, etc. I had one for my son and one for myself. Sure, there's an answer key, but what good would that be if I couldn't explain it to him when a question arose. I'm not a licensed teacher, but a Mom with a lot of love.
He would start with watching the daily
lesson
with the
Essentials in Writing DVD
. After he watched the lesson, we would gather for a Q&A session. He would then proceed to the daily task of a worksheet, assignment, etc.
Essentials in Writing
is a great independent study, but if grammar isn't a strong trait, I strongly recommend following along so that you prepare yourself for questions from your child.
My son and I both enjoyed using
Essentials in Writing
. It allowed him to work independently and helped him learn what he had missed in middle school. However, this is recommended for 6th grade, but once he completes this program, we're moving to 7th and then 8th. I think it's a great program for any child in 6th grade, but if you have a child behind it will be great for them to get ahead as well.